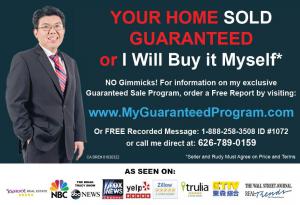 Rudy L. Kusuma Home Selling Team Ranked #1 The Most Reviews and Endorsements from Local Home Owners in zillow – Southern California Real Estate Market
SELLING A HOME IN SOUTHERN CALIFORNIA HAS NEVER BEEN EASIER, MORE SECURE & GUARANTEED BEFORE
LOS ANGELES, CALIFORNIA, USA, March 8, 2018 /EINPresswire.com/ — Seasoned Real Estate Expert from Southern California, Rudy L. Kusuma is offering a guarantee like no other in the real business for the home sellers. Rudy Kusuma is also the leader of Team NuVision and he guarantees his clients that the team will sell their home on top dollar and if not, he will buy it on cash instantaneously. This guarantee not only secures the seller's interest but it is also getting a phenomenal response from homeowner's across California.
"When you list your home with me, you receive my better than risk-free offer and in fact, you are doubly protected." Said Rudy Kusuma, while introducing this guaranteed offer. "I will sell your home guaranteed or otherwise, you will receive my upfront Cash Offer Guarantee in writing guaranteeing that I will sell your home before you take possession of your new one." He added. According to Rudy Kusuma, if a seller gets a better price than his offer from an outside buyer, the seller will have the liberty to sell it at a higher price.
In addition, Rudy Kusuma Homeselling Team has an innovative buyers' database in which, there are a lot of buyers ready to purchase the property instantly. Rudy Kusuma and his Team NuVision are known nationwide for introducing innovations and new techniques to protect the interests of both buyers and sellers and most of their services are absolutely free with no cost, no obligation.
To get more information on this one of a kind guarantee, simply visit www.teamnuvision.net/guarantee OR call 626-789-0159
To read the reviews of Rudy L. Kusuma, please visit his Zillow page: www.zillow.com/profile/rudylk/
Rudy Lira Kusuma Real Estate Broker License 01820322
Rudy L. Kusuma
RUDY LIRA KUSUMA HOME SELLING TEAM
626-789-0159
email us here

Source: EIN Presswire