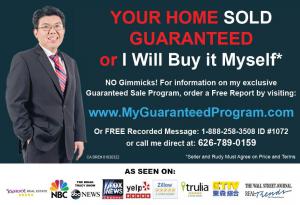 Rudy L. Kusuma Home Selling Team Ranked #1 The Most Reviews and Endorsements from Local Home Owners in zillow – Southern California Real Estate Market
Homebuyers Can Now Obtain Best Rates & Lowest Closing Costs & They Can Sign Up For Free To Avail Many Other Services By The Award-Winning Team
LOS ANGELES , CALIFORNIA, USA, February 15, 2018 /EINPresswire.com/ — Great news for the residents of California that are concerned about their mortgage pre-approval as they can now obtain the best rates along with the lowest closing costs with the help of Team NuVision. In a recently published report on its website, the top selling real estate team is educating homebuyers on how to make the best offers that can put them at an overwhelming advantage during the deal. The report is now available on the website of Team NuVision and everyone can gain access to it for FREE simply by filling a form online.
"In a strong real estate market, sellers can be more selective in the final buyer they choose to negotiate with and in such a crazed seller's market, it's not uncommon for a home seller to receive multiple offers on their property." Said Rudy Kusuma, while explaining the situation of current real estate market. "The vast majority of Purchaser's today go about the process entirely wrong, putting themselves at an overwhelming disadvantage and this report is for helping all those buyers." He added.
In addition, the report educated buyers about making the right decisions regarding their financing before buying the property. Mortgage Pre-Approval offers several advantages and sellers feel more comfortable with a certified and qualified buyer. Therefore, Team NuVision also helps its clients by forwarding their information to one of its preferred mortgage professionals who can assist those clients in locating the absolute best mortgage rate and lowest closing costs possible.
For more information and to get the report, simply visit www.teamnuvision.net/gold_mortgageapp
To read the reviews of Rudy L. Kusuma, please visit his Zillow page: www.zillow.com/profile/rudylk/
Rudy Lira Kusuma Real Estate Broker License 01820322
Rudy L. Kusuma
RUDY LIRA KUSUMA HOME SELLING TEAM
626-789-0159
email us here

Source: EIN Presswire