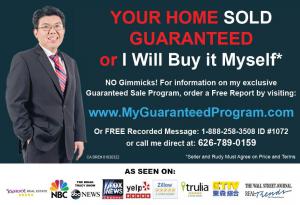 Rudy L. Kusuma Home Selling Team Ranked #1 The Most Reviews and Endorsements from Local Home Owners in zillow – Southern California Real Estate Market
WHERE TYPICAL REALTORS DISAPPEAR AFTER CLOSING THE SALE, RUDY KUSUMA'S TEAM NUVISION STEPS IN TO PROTECT THE BUYERS EVEN AFTER THE SALE
LOS ANGELES, CALIFORNIA, USA, February 28, 2018 /EINPresswire.com/ — Southern California's leading real estate service, Team NuVision has recently announced that it is offering 'Buy Back Guarantee' for its valued clients. No other realtor offers this service with a guarantee and this simply means that if a buyer is not happy after moving into a new home for any reason whatsoever, he can simply sell his home back to Team NuVision. The company guarantees this service to ensure absolute customer satisfaction and it is getting a phenomenal response from buyers in California due to this service.
"You are eligible for this offer if you have recently bought one of our listed properties or if you have worked with any member of Team NuVision." Said Rudy Kusuma, the Team's Leader while explaining the BuyBack Guarantee. "Buy Back Guarantee is our initiative to protect our valued homebuyers in this competitive real estate market of Southern California." He added.
According to a recent poll from NAR (National Association of Realtors), almost 70% of home sellers and home buyers would not call the same agent again to do more Real Estate business. However, this innovation introduced by Rudy Kusuma's Homeselling Team will change all the prevailing trends in the market and will give buyers the ultimate peace of mind. Moreover, the offer is valid within the first 12 months of the purchase and the team is giving this in writing to its clients.
To take advantage of this amazing free offer, please simply the link below www.teamnuvision.net/gold_customform2 OR call 626-789-0159
To read the reviews of Rudy L. Kusuma, please visit his Zillow page: www.zillow.com/profile/rudylk/
Rudy Lira Kusuma Real Estate Broker License 01820322
Rudy L. Kusuma
RUDY LIRA KUSUMA HOME SELLING TEAM
626-789-0159
email us here

Source: EIN Presswire